Finding the perfect Personalised Number Plate
Personalised Number Plates, also known as Private Number Plates can be purchased and used on DVLA registered vehicles registered in mainland UK and Northern Ireland. You may wish to personalise your vehicle with your name, initials, hobbies or interests. Some people want to display the details of the vehicle model on the plate (e.g. A1 BMW) or display their occupation (e.g. BU11 DER)
Tom Williams contacted us for some advice on how to find personalised number plates for him. He wanted one that would display his name and date of birth, so we suggested W16 TOM among others. Please see his photo below!
We are experts in finding our clients really personalised matches. We have put some tips and ideas to assist you here into a guide. We hope you will find the perfect personalised number plates, whether you are looking for a registration that is personal to your name like Tom or have someone else in mind.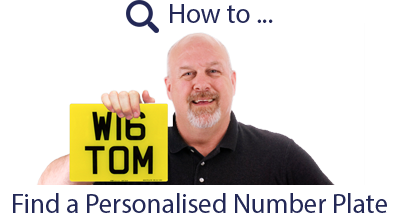 Bargain Number Plates
The Cover Plate Hotlist
Simply Amazing Value - the Perfect Way to hide the age of your vehicle - from only £130 (inclusive of government fees).
These distinctive "cover plates" can be transferred to any age of vehicle. Prices shown include vat and government transfer fees.
Why Choose Plates4less?

Established in 1997, we have over two decades of experience, with expert teams ready to help you.
More five star reviews than any other number plate agent & a customer satisfaction score of 9.9 out of 10!
The Best Results
The ultimate user experience
of the largest UK salelist
The Best Technology
Highly efficient systems
saving you time and money
The Best People
Friendly expert service
and advice
How to use your personalised number plates:
You may choose to put your chosen registration mark onto your vehicle or keep it on retention until you are ready to use it. See our helpful guide here to answer any questions you may have about how to use a personalised number plate.
Important DVLA rules to consider when displaying Number Plates.
- It is illegal to misrepresent the format of a number plate.
- You cannot assign a registration mark to a vehicle that makes it appear younger. i.e. If you have a 1998 vehicle with registration mark R189 UED then you can not assign the 2005 registration mark AB05ABC onto it. Registration Suitability Checker
- Vehicles must have current MOT (if of the necessary age) and Road Tax (or be exempt) to take part in the government transfer scheme.
- Number Plates always contain a number.
Northern Ireland format registrations are commonly known as 'Irish' registrations prior to the separation of Northern Ireland and the Republic of Ireland. Any reference to 'Irish' registrations on this page relate to registration marks now known as 'Northern Ireland format' registrations.
How does selling personalised number plates work?
If you have a Personalised Number Plate which you would like to sell, you can list it for sale through our website. Simply click here to register your details and as soon as we have any interest in your Personalised Number Plate we will contact you.