4D Standout Plate Gallery
Images shown are for illustrative purposes only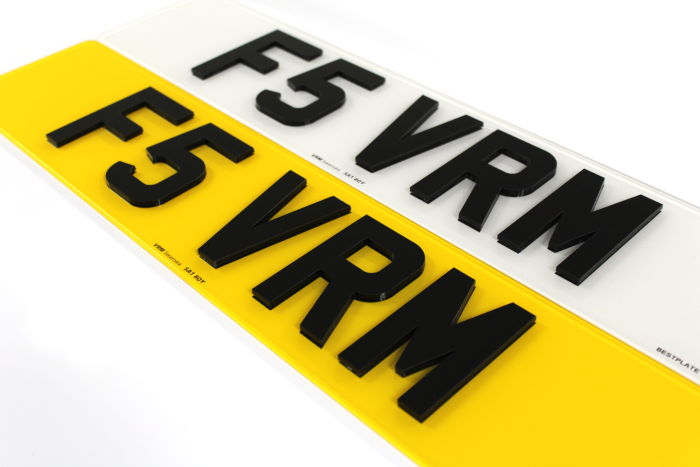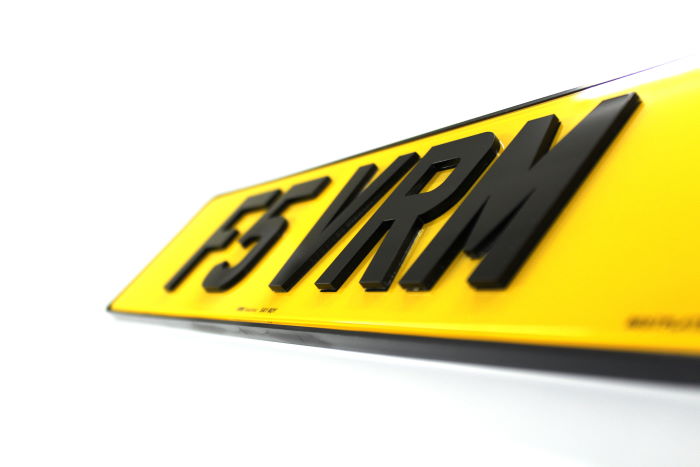 Click here to read more about 4D stand out plates...
Lots of great reasons to order your new number plates right now!
You'll need new number plates to match your new registration mark so why not order them now? Premium quality number plates delivered to your door- saving you time and money. We have all popular sizes and options including vehicle-specific rear plates and national flag emblems. Our top quality number plates are 100% legal and at least £10 cheaper per pair (incl. delivery and fixers) than most high street retailers, so you can order with confidence.
Free Number Plates Fixing Pads and instructions are included
Our number plates come with everything you need to be fitted directly to your vehicle. We include Professional-Grade 6mm fixing pads and alco wipes that can be used to attach your new number plates quickly and easily.
What do I do with my old number plates? Leave them on your vehicle and use our pads to stick your new plates over them! Perfectly legal and saves even more trouble when you sell the vehicle, as you only need to remove your private top plates!
Less ID required if you order now from us
Every number plate supplier, by law must see and record proof of identity and address, but as you've ordered your registration mark through us, its easier! You don't need to show us any extra proofs that other suppliers must see. (See 'Other Proofs' below*)
Acceptable forms of identification we can accept are:
Driving licence
Passport
National identity card
Bank or building society debit or credit card statement
Utility bill (water, gas, or electricity)
Council tax bill
Landline telephone bill
Police warrant card
Armed forces identity card
These will be returned to you once your number plates have been dispatched.
*Fedex Tracked delivery: Only for mainland UK. Northern Ireland and Scottish Highlands wil be delivered by Royal Mail first class delivery

*Other proofs: Buying your plates somewhere else?
By law, you must also show one of the following to the retailer:
vehicle registration certificate (V5C or V5CNI)
certificate of entitlement (V750 or V750NI) to the number
retention document (V778) - not applicable in Northern Ireland
a renewal reminder for vehicle tax or SORN (V11 or V11NI)
temporary registration certificate (V379 or V379NI)
a number plate authorisation certificate (V948) with an official stamp from the Driver and Vehicle Licensing Agency (DVLA) or DVSA
a letter of authorisation from a fleet operator (including lease or hire company) quoting the document reference number from the registration certificate
Free Charity Donation with every purchase
We make a Charity Donation every time a set of number plates is ordered. So far we have donated over £130,000 to good causes (more in our About Us page). This is at no cost to you, but it does greatly help the charities, so Thank You for your order ............. on their behalf!
3D Domed Gel Resin number plates: Important Advisory
As part of our strict quality controls we professionally tested all types of 3D Gel digits (Plain, Carbon pattern etc.) and found that they failed to meet the required legal British Standard, particularly when it came to thermal testing. Fluctuations in temperature typical of our normal British climate, soon led to deterioration of bonding agents and deformity of the digits, resulting in the digits moving around/peeling from the plates, and becoming unrecognisable without warning.
We publish these findings as an advisory, in case you are thinking of buying Gel Plates.
4D - Standout Number Plates
Q. What are 4D Standout number plates?
4D Standout plates are number plates which go through an additional hand-build process to have black, laser-cut, acrylic digits professionally bonded to them. These digits rise, or standout, from the plate for a more attractive and personalised look.
Q. Are 4D Standout plates legal?
Yes, 4D Standout plates are perfectly legal. The DVLA allows the new aesthetic design so long as the font remains Charles Wright and the spacing between characters is not altered in any way.
Q. What makes 4D Standout number plates so special?
The raised laser-cut digits are high gloss black, sharply cut, and professionally bonded, designed to take the appearance of your vehicle to the 'next-level', so to speak.
Q. What happens if a raised digit becomes damaged, will my plates still be legal?
Yes. Because these laser-cut digits are professionally bonded on top of an already fully legal number plate, if they are damaged in any way then it remains possible to read the number plate underneath and comply with the law.
Q. What happens if my number plates are faulty, will my plates be guaranteed?
Absolutely, yes. All our number plates are guaranteed for 3 years against manufacturing defects, provided you don't drill through the 4D digits at any time, or have an unfortunate accident with them.
Green Number Plates
If you have an electric vehicle (EV), or your vehicle produces zero CO2 emissions, you can display a green flash on your number plate
To check if your vehicle qualifies as a zero CO2 emissions vehicle you can use the DVLA's online enquiry service or check your V5 Registration Document.
https://vehicleenquiry.service.gov.uk/
The picture below shows where you can find the relevant information on the DVLA page.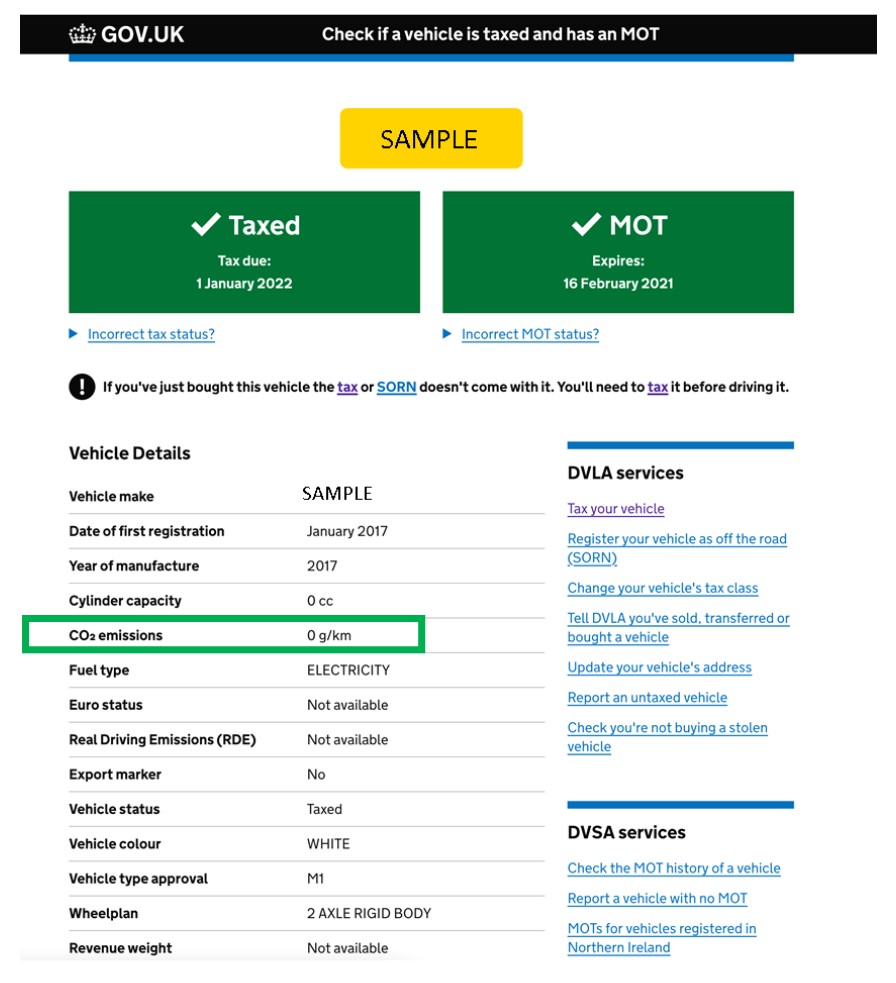 The picture below shows where you can find the relevant information on your V5.
If you are purchasing a new vehicle or do not have a vehicle yet but know you are going to buy one which emits zero CO2 emissions, you may still purchase green 'Flash' number plates.
Remember: If you are unsure about your vehicle's CO2 emissions, you can secure your registration now to avoid disappointment and add the option to your number plates later.
Please note: While the Euro and GB flag is no longer available as an option when purchasing new number plates, existing plates already displaying the flag are still considered legal.