Buying FAQs
If I include plastic plates in my order, what identification do I need to send to you?
It is a legal requirement that we see some proof of identification from the purchaser (i.e. the person who places the order, even if it is for someone else) prior to the release of the number plates.
Acceptable proof of identification includes: Driving licence Passport National identity card Bank or building society debit or credit card statement (not online) Utility bill (water, gas, or electricity) (not online), dated within the last 6 months Council tax bill Landline telephone bill Police warrant card Armed forces identity card
You will receive a postage-paid return envelope in your confirmation letter. We accept clear photocopies or even emailed images of the identification. Any original ID sent to us will be returned to you once we have recorded that we have seen it and no personal financial details will be recorded or retained. As soon as we receive one of these documents, we can arrange for your plates to be dispatched by Royal Mail.
Can I have a green flash on my number plates?
Yes, if your vehicle is an electric vehicle (EV) or has zero CO2 emissions. Only these vehicles are allowed to display special green plates. To add the green flash or green flash GB design, simply use the flag options drop-down box when adding plates to your order.
How do I know if my vehicle is zero emissions?
If your vehicle is an electric vehicle (EV) or has zero CO2 emissions you can display the green flash on your number plates. Only these vehicles are allowed to display special green plates. To add the green flash, simply use the flag options drop-down box when adding plates to your order.
To check the CO2 emissions of your current vehicle, you can use the
DVLA's enquiry service here.
(See the boxed area in the picture below for where to find the CO2 emissions information)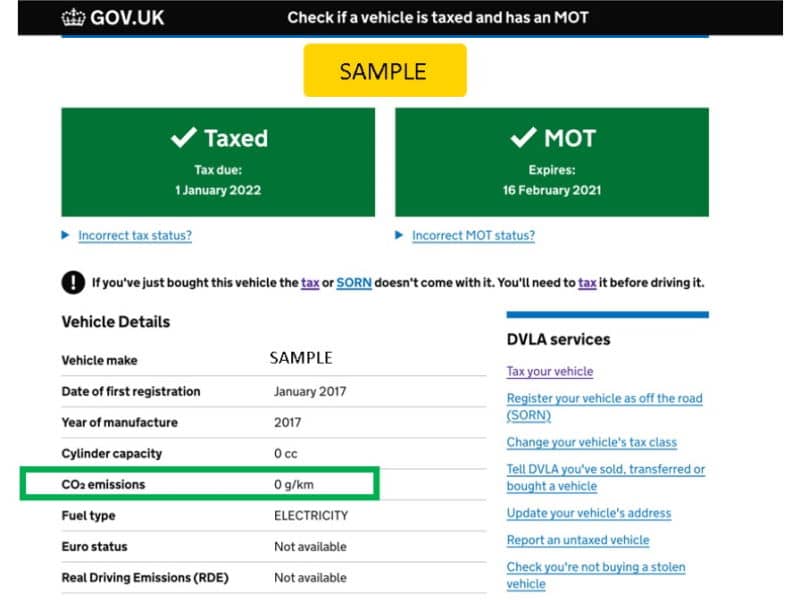 Alternatively, check your V5 Registration Document. The picture below shows you where to locate the CO2 emissions information.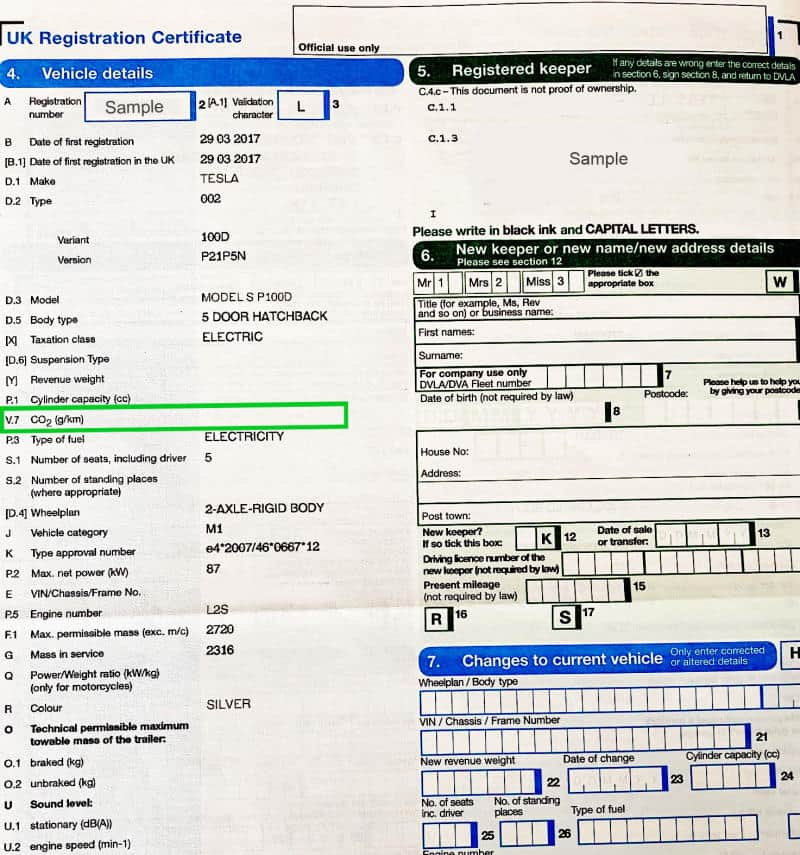 If you are purchasing a new vehicle, check with your dealership if it qualifies as a zero emissions vehicle.
How do I use my discount code?
We have recently been notified that there are a few rogue Scam-Sites which offer fake discount codes for use on some of the UK's most popular websites. The scammers do this to attract large volumes of traffic to their website and then sell advertising space. (Please do be careful if you have experienced this as Scam-Sites are known to pass spyware and viruses on to their visitors.)
While we cannot offer you a discount code, we do check the prices of our personalised number plates on a daily basis to ensure that we are extremely competitive. Prices do vary, and sometimes there can be an opportunity to negotiate a lower price with the seller. Please contact us about the personalised number plate you are interested in and we will look into any available options.
Can I order over the telephone?
Yes, you can buy over the telephone with an advisor at no extra cost. The only exception is if you intend to use finance as a payment method; all finance applications need to be made online, although a telephone advisor will be happy to offer guidance.
What payment options are available?
Our payment options make our personalised number plates affordable and easy to buy. We offer the fullest possible range of payment options, from cheques to bank transfers to debit and credits cards and individual finance packages. We have something to suit every buyer, helping you afford that perfect personalised numberplate.
What happens after I place an order?
Firstly, you should receive an email confirmation of your personalised number plate order sent to the email address you have provided. Once your payment has been cleared by our bank you will receive a second email confirming the order has been processed. If you do not receive these then please check that the email address you have given us is correct and active. Then check that your mailbox is not full so that our mail can be received. If this fails to resolve the problem, please contact us with an alternative email address.
We will also send you a confirmation pack by first class post. This confirmation pack will contain all the information you need to proceed with the transfer.
If you have chosen the Done-For-You transfer service, then in order for us to complete the transfer of your personalised numberplate we will need the original V5C Registration Certificate (also known as the 'logbook'). (We advise that you make a copy of all documents for your own records before you send them in to us.) Unless you have amended the name and/or address on your V5, there is no need to sign this; simply send the whole document in as it is. If you have amended any details, then please sign Section 8 of the document to authorise the changes.
Please note: After the registration mark has been assigned, the DVLA will send the new V5C directly to the registered Keeper at the address on the V5C. Please consider this if you are applying to assign the personalized number plate as a surprise gift.
Since submitting my documents, a new V5C in the current registration has arrived; what should I do?
If the document you sent to us was a V5C/2 New Keeper's Supplement and you have since received a new logbook in your standard registration mark, then please let us know so that we can check the progress of your transfer. We will likely need the new V5C to be forwarded to us. The DVLA always needs the most recent keeper's document for a vehicle in order to complete the transfer of a personalised number plate.
What happens to my old registration mark?
Your existing registration mark will be removed from your vehicle and held in the DVLA's holding system. If you have the space then put your old number plates into storage because if you transfer your personalised number plate at a later date then the previous age-related registration will most likely be re-instated by the DVLA. Please note, however, that there are no guarantees; you may simply receive a registration mark that relates to the age of your vehicle.
What happens if I change my mind about a personalised number plate purchase?
At the point of placing your order you will have agreed to our terms and conditions of sale, therefore waiving your right to a cancellation or cooling off period.
If the personalised numberplate you have purchased is pre-owned, you will not be able to cancel under any circumstances.
If you have purchased a previously unissued personalised number plate (i.e. you are the first owner), you can apply to cancel your purchase within 8 days of the initial order date. Ultimately, the DVLA will decide the outcome of your application to cancel and we cannot guarantee that it will be successful. Once 8 days have passed, the DVLA will not consider applications to cancel and if you have changed your mind then your only remedy will be to offer the personalized numberplate for sale (though you can claim back the government transfer fee). Similarly, if the personalised number plate has already been assigned to a vehicle then the DVLA will not consider cancellation applications. Initial applications must be received in writing, either by post to our normal address or by email to cancellations@plates4less.co.uk. We will then send you the necessary documentation, which you will need to return within 10 days of the initial order date. Please note: Only the Purchaser can apply for a cancellation; we cannot correspond with the Nominee unless they are one and the same person.
If you are unable to cancel, you can always sell the personalised number plate. We have a free seller's service on our website.