Sell your vehicle registration with our trusted FREE service!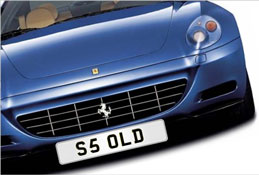 Reasons to choose VRM Swansea/ Plates4less
- Free advertising and seller service, buyer pays admin fees.
- Your own control panel to change or remove your advert, 24/7.
- Clear pricing structure. You get back what you ask for.
- Best search functionality on our popular web site.
- Maximum exposure for you number plate.
- Contracts and Transfer completed by an expert at no cost to yourself.
More...
Frequently Asked Questions
Can I sell my registration mark?
If your registration mark is on a vehicle:
In order to comply with the regulations of the government Cherished Registration Mark Transfer Scheme, all vehicles must be taxed (or tax exempt) have a current MOT (if of the required age) and be easily identifiable from their chassis numbers.
You must be the Keeper of the vehicle or be acting with the complete consent of the Keeper in order to use this service.
Check your Vehicle Registration Document (V5C or V5NI) does not say 'Non-transferable registration mark'. If it does, then unfortunately your vehicle registration mark cannot be sold or transferred.
If your registration mark is held on a government certificate:
The certificate must be currently valid ie within its expiry date and you must be recorded as the Grantee, the Purchaser or be acting with the complete consent of the Grantee or Purchaser in order to use this service.
How is it a free service?
Our service fees are paid for entirely by the buyer and we keep them as low as possible to achieve a quicker sale for you. When a buyer is found at the price you require we will speak with you or ask you to sign and return a sale document to create a formal sale contract, making sure you understand what you are agreeing to do. Naturally, if you change your mind after this contract is formed then your buyer will be left dissapointed and we will require you to pay the full service fees that your buyer would otherwise have paid us as, we will have done the bulk of our agreed work.
Can I sell my registration privately?
You can also choose to list your registration mark privately and then request that we get involved once a buyer has been found. This gives you the confidence of having a qualified, government- regulated team of experts working for you. Our Assured Transfer service fees will be the same as those displayed when you advertise with us and will be payable from the proceeds of your sale.
NB. We do not recommend that you go it alone and complete the sale & transfer privately because the way in which the government transfer scheme works leaves room for either the seller or the buyer of a registration mark to be a victim of fraud unless a reputable intermediary party is involved.
What is the VRM Swansea Commission List and how does this benefit my sale?
With your permission we will circulate your sales advert(s) with our reputable associates in the industry so that you have complete market coverage of the UK and Northern Ireland. Please rest assured that we will not share your personal or contact details with any other party. All enquiries will come back to you only through us, as your trusted appointed main agent. This naturally saves you the time and effort of registering your registration mark for sale with several different companies and allows a larger audience of potential buyers to view it. This also greatly helps us determine how many buyers are interested in your number plate and in negotiating the best possible sale price for you, when offers begin coming in.
This service often results in a quicker sale for you and you will be saved the trouble of calls you would otherwise receive when one buyer enters the market and begins ringing around many dealers to check on price and availability.
It is not compulsory to register your mark with our list and you may still approach other dealers or advertise independently if you so wish, even if you are on the list.
What do I have to do?
Decide on your price, fill in a short form and follow the instructions to complete our on line registration process. As stated, this is a free service. In return, all that we ask is that you regularly (every 3 months) renew your advertisement if you wish to keep it active on the website, and remove it from our adverts if you wish to take it off sale.
How much is my number plate worth, how long will it take to sell?
Please note: We don't presently give free valuations but we will let you know if we feel you are asking too much or too little, for your personalised registration.
Most of our sellers have a good idea of how much they wish to sell their private number plate for. This will often be based on what they paid for it and how long they have owned it, as they often increase in value as the years go by.
The key to selling your number plate in a reasonable time is to be realistic with the price and not to over-value it. Just take a look at similar number plates on our sales lists to get an idea of current market values.
The most important factors in selling any personal registration mark within a reasonable time are:
Accurately gauging its level of desirability
Getting the asking price right from the result of the above
Constantly advertising and marketing the registration mark to prospective buyers
Assessing the changing conditions in the registration marketplace (and the wider UK economy) and responding accordingly
Making it as easy as possible for the buyer by accepting the most popular methods of payment.
Buyers will often make offers if they like your registration mark but cannot afford your asking price, or have seen similar marks for lower prices elsewhere. We will contact you should this be the case.
How much will you add on to my asking price?
We believe it is important to both buyers and sellers, that the prices advertised on our website offer good value for money. Consequently the service charges that we add for payment by the buyer, are amongst the lowest in our industry. These charges provide both sellers and buyers with our marketing services expertise and assurance of a safe and successful transfer, both of the registration mark and the monies involved.We don't provide free valuations but we will advise you if we think you are asking too much or too little for your personalised registration.
Unlike many other firms we will not charge you (the seller) to list and sell your registration mark through us, provided you act in an honest and timely manner throughout the sales process.
Advertised price
When the buyer clicks to view your registration mark, they will be presented with a price breakdown, including the Department of Transport transfer fee and any VAT. When you register an account you can experiment with your required price and see what the eventual advertised price will be, before submitting your personalised registration for sale.
Department of Transport transfer fee
This fee is the standard DVLA (or DVA NI) charge for changing the details of the vehicle(s) involved in the transfer and producing replacement documents including V5, MOT and Tax discs. The fee will vary depending on the status of the registration mark and the purchaser's requirements.
Base price
The Base Price is made up of your selling price (the amount you require upon sale of your registration) and our service charges. Our service charges are paid by the buyer and ensure we are paid for our advertising and marketing, our expert sales negotiations and our administrative work. Our fees provide a secure, speedy transfer with an expert handling your paperwork at the DVLA Vehicle office here in Swansea. Your documents and information will only be seen by VRM Swansea and Government staff. Your buyer's payment will be collected and held securely by us when the order is taken. Once government confirmation has been received that the transfer is complete, you will receive your funds, usually by way of a cheque.
What can I trust you to do?
Our promises to you are that:
Your number plate will be advertised for free until it's sold, provided you keep renewing your advert (you are requested to do so every 3 months, or else it will expire)
We will use our very best endeavours to secure a sale as soon as possible
You will pay no sales commission to us
We will contact you as soon as any reasonable offer is made
We will conduct the entire transfer for you when your buyer is found
You will receive your funds as soon as the transfer is complete
What do we expect from you?
We expect you to:
Act honestly and truthfully with us
Instruct us only if you have full authority to do so
Notify us immediately if you wish to take your number plate off sale
Keep you word once you have agreed to your sale
Send us the correctly signed documents quickly and securely, to enable us to complete your sale and process your funds
What is the step by step process?
Upon a sale being agreed (with yourself accepting the proposed amount), the following steps take place:
Terms & Conditions and proof of ownership

Once you have heard and agreed to our terms and conditions over the telephone, you must supply us with a copy of your proof of ownership to the registration mark. This can be via Fax, email or post and must be a valid latest copy of one of the following government documents:

V5C vehicle registration certificate (or V5NI)
V778 certificate of retention
V750 certificate of entitlement

Payment secured

The buyer's payment is secured and held for you until the transfer is complete.

Contracts drawn up and mailed out

A contract is sent to you, confirming the offer along with a set of instructions for your formal signature and acceptance.

Transfer documents received by us

When your vehicle/ registration documents are received, they are checked by an expert transfer agent and held securely until the buyer's documents are received and similarly scrutinised for suitability in the transfer process.

Transfer completed at Swansea DVLA local vehicle office.

An expert transfer agent will personally visit Swansea DVLA local vehicle office to complete your transfer.

Payment made

Payment is sent to you by cheque on the same day that notification of transfer completion is received from the DVLA.
The entire period can take anywhere between 2 and 6 weeks. We always endeavour to complete the transfer and make payment to you as soon as Government confirmation allows us to do so.
Benefits of Using VRM Swansea
Completely free advertising and trusted seller service, your buyer pays the fees
Personalised number plates can take weeks, months and sometimes even years of advertising (if their appeal is very specialised) before the buyer comes along to buy them. This is because they are personal and being personal they don't suit every buyer who's in the market at any given time. You can advertise and sell with us in the complete confidence that it won't cost you any more than the cost of a few letters and getting a new set of replacement number plates (if you need to) once the sale is completed.
Expert Nationwide marketing and pin point advertising
We advertise throughout the whole of Britain and Northern Ireland 24 hours per day, 7 days per week, 365 days per year, attracting in excess of 15,000 private number plate buyers to our popular website and even more to our expert telephone advisors, each week. We use the most effective search engines such as Google and specially formulated marketing campaigns to place us on the first pages of the most popular search results for the most effective number-plate-specific web searches.
Maximum exposure with our selected reputable associates
With your permission, we will also pass details of your registration mark (but not your identity or contact details) to our carefully selected trade associates so that you receive total 'blanket' coverage of the whole UK private number plate industry. All enquiries will come right back to us so that you have one certain point of contact for your sale. This is essential for you when negotiations begin, as we will instantly be able to tell you how many buyers are involved and negotiate the best sale price on your behalf. We will make all the approaches to the other agents for you and you will see your registration on every reputable website.
Our easy to use Smart-search
Prospective buyers will see your registration mark online and find it easily, using the most advanced industry- leading search technology available. Our website is optimised and regularly updated for use on all internet browsing devices, including smart phones. You found us and your buyer will too!
We keep our costs low to make buyers and sellers happier!
We believe it's very important that selling prices offer good value for money, so we keep our service charges as low as possible. This means that our prices are lower than elsewhere, which in turn means quicker sales and more satisfied buyers and sellers- hence the name Plates4less!
Safety and peace of mind -expert negotiators working for you
You won't have to deal directly with time wasters or disclose your personal details and documents to complete strangers. We will conduct all contract negotiations for you, with expertise designed to ensure your safety and security is maintained throughout the process. We will check that your buyer is able to pay before the transfer is lodged with the government and your funds will be the conveyed to you as soon as the transfer is confirmed by the DVLA.
Our payment options make your number plate easy to buy and affordable
We offer the fullest possible range of payment options from postal orders to cheques, from bank transfers to debit and credits cards, from over-the-counter bank deposits to individual finance packages. We have something to suit every buyer and help them afford to buy your private registration mark.
Manage your advert online
You won't have to call us to change the price of your number plate or take it off sale if you need to. With your unique log in details you can make instant changes your self.
On the QT……another unique service for our clients
We know that some sellers prefer to sell their assets quietly and somewhat off the radar. We keep a separate list of available highly desirable number plates which we make known only to serious enquirers and our qualified associates. Please let us know if you wish to be included in this bespoke service ontheqt@plates4less.co.uk
We only recommend this service for distinct and rare combinations as your exposure to buyers will be at a minimum.