Number plates for you! What our customers think
Page 34





T B*-Brogan | Over a month old | Full Transfer | T***BRO
I am very pleased with your services. I chose your website after comparing a few and thought yours was easier to navigate and the selection of plates better, with affordable prices. I was looking for a plate with my initial and the first letters of my surname, for a reasonable price, and I found it. Thank you very much.





Imani | Over a month old | Full Transfer | S*HDA
Hi, I just want to thank the team at plates4less for their superbly efficient service. They made the whole process of buying a cherished number plate and transferring it to my car seamless. Their customer service staff were polite and courteous when answering your queries. Well worth the fee and would highly recommend. S x





D POWLES | Over a month old | Full Transfer | J*BLP
A big thank you, a fab service, the plates were bought for my daughters 21st birthday, the process was easy, quick and efficient, I would definitely recommend VRM. Kind regards, D P





G HANCOCKS | Over a month old | DIY Transfer | J*UKX
Thank you for the email I found the process of ordering plates through your website/by phone simple and straightforward. Your telephone staff were courteous, helpful and polite and the whole process was completed painlessly and without hitch. Thank you






D Elliot | Over a month old | DIY Transfer | SH03GLU
... I must say I was very impressed with the service and speed at which you organized my purchase and will hopefully be using you again in the not to distant future as i am looking to purchase similar plates for my other vehicles.... SH03 GLU= Company name, Jameg Shoe Glue!





J JOSEPH | Over a month old | Full Transfer | J*OHN
Great service! thanks for all of your help througout- perfect plate at a good price, Im chuffed!





I Palmer | Over a month old | Full Transfer | A*YTX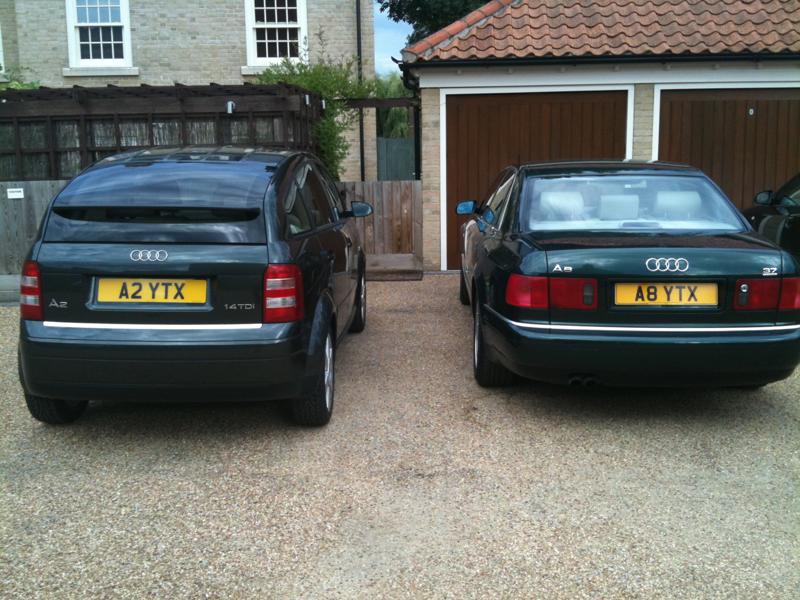 ..... I would like to say how pleased I was that the whole process ran very smoothly.

Please find a photo attached that shows both of our vehicles marked with YTX plates. The Audi A8 had A8 YTX as it's plate when we acquired the vehicle, so it made sense to try and get a plate that matched it when we purchased an Audi A2. So with your help we now have two vehicles with matching number plates.
Thank you.





P Mason | Over a month old | Full Transfer | M*BMM
Hi, The service worked well. I was a bit perturbed about sending original documents to you including bills, but it was OK in the end. I guess frequent communication and a real person (tel number) that can be called provides some reassurance. The website and searches were good and its good to see the license plates as they would appear rather than just as text. P





V Fenwick | Over a month old | Full Transfer | K155***
I would highly recommend plates for less. Their customer service was second to none and everyone I spoke to was extremely helpful!





R Webster | Over a month old | Full Transfer | RJZ ***
Hello,
I ordered a new set of plates from plates4less for one of my white stretched limousines to hide the real age of the car, The sales woman I spoke to explained everything very clearly and I was amazed how easy it was to do.....I could not wait to get the plates on the limo.

I have enclosed a photo below.

Kind Regards

R Webster





P & N DALY | Over a month old | Full Transfer | N*DLY
I chose the number plate as a present for my husband - and as our surname is DALY , thought that it was the nearest I could get at an affordable price. The website was very informative and easy to use. I was extremely impressed with the service, having ordered the number plate on 11.6.2010 , all the paperwork and transfer was completed quickly, with the plates fitted to my husband's car on 29.6.10. I have used another company previously for a personal reg of my own, which took 6 months to complete. I would not hesitate in recomending plates4less.





J Richards | Over a month old | Full Transfer | X*CRT
I would like to thank you and your team for the excellent customer service provided when purchasing the above plates which were a present for my daughter's 18th birthday.

We wanted to give her the plates on the day of her birthday and also have them put on the car on the day, however, on the day before we had not received the documentation or the new tax disc so I called your company for an update. I spoke to a young lady who I think her name was Andi (forgive me if this is incorrect) the young lady in question informed that the request had gone of the to the DVLA and that they should have been back by now and that she would enquire and get back to me. A couple of hours later I received a call from the young lady to say that she had not forgotten about me and was waiting for a call back from the DVLA, this was quite reassuring and a level of customer service that is rarely experienced these days. I then received a call from the same young lady to inform me that she had personally been to the DVLA to collect the documentation and would send then in the post first class that evening and needless to say it all arrived in time. Dealing with Plates4less was a completely pain free experience and I would like to thank you for your professionalism and first class customer service. J Richards





L Rave | Over a month old | DIY Transfer | L*RVE
Hello I was thrilled to bits with my plates and the staff when I called with any queries were very friendly and most helpfull, I definitely recommend the site and your company to all my family, friends and work colleagues.





B Barwick | Over a month old | Full Transfer | ABC**D
.. we were very pleased with the quick service and the very fast delivery of the documents, will recommend your service to other people.





T FORD | Over a month old | Full Transfer | J*PLC
I felt compelled to drop a few lines to say how impressed I was with the service I recently experienced with your organisation, I was browsing the site looking for a number plate, I had no idea on what would be available so keyed in my company name and to my amazement J*PLC came up as available. I immediately purchased this and paid the DVLA transfer fee up front. The speed in which the paperwork came through was unbelievable and within 5 days of purchasing the plate it was on my car and sorted. Very impressed if only all companies offered a service with this efficiency.





S Field | Over a month old | DIY Transfer | S*FLD
I really must say the service was excellent. The plates were ordered last minute as a gift, and we were unsure as to whether they would arrive on time; and they did. And the paperwork provided made the process of transferring the number simplicity itself.





David | Over a month old | Full Transfer | D*AVD
....Where do I start? The website answered a lot of my questions as I didn't really have any idea about registering / re-registering vehicles or their reg plates. Obviously my main concern was that I wanted to buy it as a gift without involving that person and ruining the surprise. Yet again the website answered all of these questions and was very informative. The automated e-mail response was both prompt and re-assuring. Within 24 hours I received a phone call to confirm a few details. The member of staff I spoke to was both polite and professional and only improved my confidence in your business. The various letters that followed asking for signatures etc came with idiot-proof instructions that were clear and concise. The DVLA documentation arrived in little over a week from my original interest on the website. Pretty impressive by any standards!! Yet again the instructions about what to do with the DVLA documents were fairly clear and easy to follow and the list of local DVLA offices proved to be useful. The personal plate that I purchased has since attracted a bit of interest and been the topic of conversation and I've recommended you to at least two people and wouldn't hesitate in recommending you to more. Something else I'm glad of is that I've not been bombarded by random e-mails as a result of using your service. Thanks. Thanks for speedy, professional and convenient service.





G Botterill | Over a month old | DIY Transfer | D* NHR
I am happy to say that on the two occasions I called to your office I received excellent customer service from both individuals. The first lady responded to my ideas well and provided a number of possible options for plates both UK and Northern Irish.






K Rayson | Over a month old | Full Transfer | A* KVR
I found your service excellent, everything was taken care of very speedily; I even had a couple of queries which were cleared up when I rang your office. Very good service I cannot fault you.





J Pinchbeck | Over a month old | Full Transfer | JP**JJP
We would just like to say thank you for your company's superb fast and helpful service when supplying the above number plate.....it was greatly appreciated.