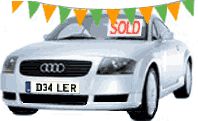 If you're ordering a new vehicle, we can work direct with your dealer to ensure your new private number plates are transferred before you pick up your vehicle.
Don't worry if you expect your new car to arrive much later in the future because once you've found a suitable private number plate the most important thing to do is secure it for yourself. We'll keep your new personal reg on a certificate for you until you are ready to tell us who you are buying your next vehicle from. Then all you need to do is give us their contact details and the make, model and delivery date ........ we'll do the rest!
Just select the Done-For-You Transfer Option and have your Dealers' details ready, when you place your order.
Timescales vary depending on whether the car is brand new and unregistered, or pre-owned.

If it is brand new: We require at least 7-10 days notice so that we can get the official documentation for the registration mark to your dealership. Once they have it, they will be able to use their systems to assign the mark to the car straight away.
If it is pre-owned: A longer timescale is needed. It will generally take us between 5 and 10 working days to get the official V750 certificate to your dealer so that they can liaise with the DVLA on your behalf to get the number assigned to your car, which can take up to a couple of weeks.



What could be simpler!